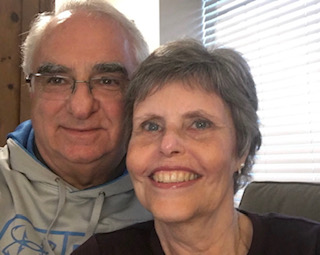 Wayne and I have been Cursiestas since approximately 1999. Following our amazing Spirit-filled weekend each of us attended Friday evening Ultreyas and participated in group reunions with several Cursiestas each of us met on our weekend. We continued this for approximately 12 years and developed beautiful friendships with our fellow cursiestas who became more than friends but were extended family to us as we continued to grow in our faith journey. We became more involved in the Cursillo Movement along the way and were privileged to be asked to be a part of the Secretariat for several years. We even attended an AGM in Halifax, Nova Scotia.
In approximately 2010 we moved out to Agassiz and although we were not able to meet in person any longer it was always a very strong part of our spiritual background and missed the social and spiritual aspect as well as the support from our extended family in the Cursillo Movement.
Having moved back to Maple Ridge, we started to attend Cursillo in person prior to Covid and we were welcomed back with open arms. We had come home!!
Coming Home, it is hard to explain, but it is a great way to describe how we felt returning to Ultreya and re-engaging with our fellow Cursiestas. It was as if we didn't skip a beat and picked up where we left off. The warmth and acceptance we felt was heartwarming and uplifting. During Covid we have since met over Zoom and find the friendship, spiritual guidance and support has helped us grow even stronger in our faith.
We are so grateful to be a part of such an amazing group of people and the Cursillo Movement.
De Colores
Peggy and Wayne Turner